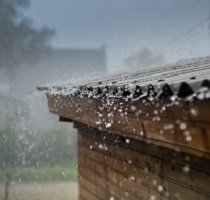 Your roof is vulnerable during a storm
A well-designed roof can weather any weather, and if you used Dr. Roof Inc for roofing in Portland, you don't have to worry. But what if you have an older roof that hasn't been replaced or even inspected for years? When a storm is in the forecast, is there anything you can do to reduce the risk to your property? While we recommend getting a comprehensive roof inspection, our roofing contractors know that time and budget constraints might eliminate the possibility when a crisis is imminent. Are there roof protection procedures that can help? And if so, what can you do now?
Looking for some help? There may be time to let our professional roofing contractors make sure the job gets done right! When you know a storm is coming, call us as soon as you can to make an appointment while they're still available.
What kind of roof damage can I expect from a storm?
The kind of damage you can expect depends on the type of storm it is. Is it a snowstorm? Hail? Heavy rains and winds? Each type carries different risks.
Hail in Portland is rare but happens occasionally. Large hail can leave dents in your roof and siding and knock away protective granules.
Wind is more frequent, and there are usually one or two periods of high wind yearly in Portland. Wind can remove shingles and ruin seals.
Rain is always happening in the Pacific Northwest. Rain can get into the cracks and weaken structures and increase the chance of mold.
Older homes are more at risk
Portland has a lot of older homes, some of them over 150 years old and still standing. According to Coldwell Banker, the median age of homes in Portland is 59 years old. Roofs are expected to last about 25 years but can be much longer or shorter depending on maintenance, weather, and environmental factors like animals or pests wearing it down. This means that even roofs in better condition on these older homes are more at risk, especially during major storms. For these homes in particular, taking some time to address some of these risk factors could save your roof from being completely destroyed.
---
What steps can I take?
When a storm is imminent, you may not have time to put on secure shingles or re-roof your property, even if it's desperate need of a roof replacement. 
Look over your insurance policy and know your coverage. You may be protected against severe cases–or you may not be.
Clean your gutters and get rid of any clogs or debris. This will help make sure they won't get overloaded when they're needed most.
Trim any trees that can endanger your property. Many roofs are smashed in by tree limbs which could have been prevented.
Check the roof for loose shingles. Check solar panels if you have them. If possible, nail down any shingles to secure them for the storm.
Remove what you can from your front yard. Minimize the opportunity for objects to fly towards your roof and the rest of your home.
Call us if your roof is damaged
We understand that even the best preventive maintenance doesn't always work. Large trees can fall down or the winds might simply be too strong for your roof to handle. If this happens, call a professional roofing company to come by for help. At Dr. Roof, we offer payment plans so that you can get the work you need done now and deal with paying for it when you're able to.  Even if it doesn't seem like the best time for a roof repair, our skilled staff, quality materials, and efficient work times are always standing by to keep your roof doing its job.
Contact Dr. Roof Inc for roof protection services and roof preventative maintenance in Oregon and Washington.