Repairing Roof Damage
If you live in the Pacific Northwest you know the damage that the weather can do to a roof. Deciding what do do can feel overwhelming, but at Dr Roof in Portland, Oregon, we can tell you what you need for each roof repair project.
Which roof issues can I fix on my own?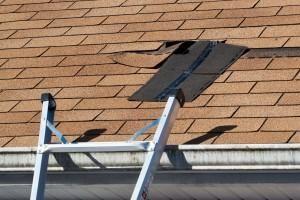 It's normal to be apprehensive when thinking about hiring someone to fix your roof. And in some cases, it might not be necessary. Minor jobs might mean just having to replace a few broken shingles. Besides saving money, you can take pride in doing something for yourself.
The easiest DIY roof repair is probably stopping a leak that's caused by water getting in under the flashing. All you have to do is choose an appropriate sealant, load it into a caulking gun, and apply it all around the edges. Bring along a putty knife to press the sealant into any gaps for more watertight performance.
Do you have asphalt shingles? Most homes in the area do. If you're dealing with pieces that are curled backward, the job can be as simple as pressing them all flat. Then apply some roofing cement underneath to keep the pieces from folding back up.
To replace an asphalt shingle entirely, get at it from the layer above and then pry out the nails holding it in. You can then just pull the old piece out. After that, simply add the new piece by sliding it back under the upper layers. Then just nail it in, seal the nail holes and lay all the shingles flat.
What if it's more than a few shingles and flashing?
A hole that opens up into a room of your house is too large of an issue to fix by simply covering it over with asphalt shingles. It's possible to do large-scale repairs on your own. Just know that it requires more than just a hammer and sealant.
At this point you need to actually replace the plywood decking that lies under the roofing paper. Depending on the extend of the damage, in some cases you can get by with just replacing a portion of the overall roof.
Do I need to hire a pro for my roof repair?
Consider what it might mean if you have a deeper issue than simple tile repair. Water coming into your home through a hole in the roof can lead to mold and rot, especially in Portland's wet climate. A repair done right by a knowledgeable tradesman can save your home from lots of damage in the long run.
Also, think about the cost of taking the time off to get the repair done. Do you have enough time on your hands to do it yourself? What about tools and supplies? If the project is more than something that requires a weekend afternoon to finish, it's a good idea to consult a professional. The city of Portland requires permits for some roof repairs, and a professional can take care of that for you.
Whom do I get to patch the hole in my roof?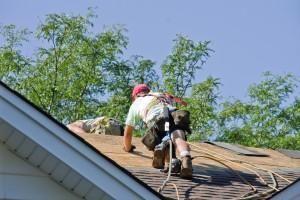 Portland's own Dr Roof is a professional team that features very knowledgeable workers. They know what they're doing, and how to get the job done right the first time. These craftsmen take the time to give you a clear and accurate estimate, and to tell you what you need to know in plain English.
Time is not your friend when it comes to roofing. Whether you're dealing with summer bugs coming in or rain and snow, you need your roof sealed up immediately. The professionals at Dr Roof understand what you're going through and make sure that your house becomes a home again as soon as possible.
What's the advantage of going with Dr Roof?
Dr Roof stands behind their roof repairs, in Portland and everywhere else that they serve. This warranty protects you in the future, and is more secure than simply fixing damage by yourself. The guarantee covers both materials and the work done.
The roofers at Dr Roof make sure that the newly repair portions look as close to the original roof as possible. That attention to detail leaves your home looking beautiful, and can help to retain its value for resale.
If it turns out that your repair job requires more than a few simple shingles, Dr Roof is your go-to service provider. They take care of any issue, up to and including total replacements as needed.
Dr Roof's workers are knowledgeable and dedicated to giving you a positive customer experience. They engage in practices that are safe for the laborers and for you and your family. At the end of the day, these craftsmen work to make sure that your home is as snug and secure from the weather as the one their own.
Is it really worth it to have a pro do the job?
What's more valuable to you than knowing that you and your family can sleep safely at night? What about protecting your most important investment from damage that spreads due to water getting in? A proper roof repair job can extend the life of your house by several years.
Calling in Dr Roof to do the job for you ensures that you're getting it done by a group that's as passionate about the quality and soundness of your home as you are. Call them today to get the job taken care of right now.
In addition to roof repairs, they also offer various other services. Once you experience Dr Roof's professional service, you're going to want to call them for all of your other jobs.