Portland's Light Rail System
At the core of Portland Oregon's public transportation system is the MAX light rail, with ninety-seven stations and sixty miles of track that connects the region, airport, and city.
Max Lines
The light rail has 5 lines, all of which travel through downtown: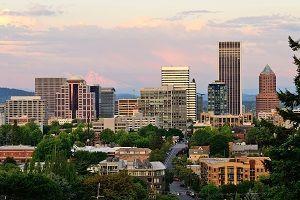 Orange Line (City Center/Milwaukie)
Yellow Line (City Center/Expo Center)
Red Line (Beaverton/City Center/Airport)
Green Line (City Center/Clackamas)
Blue Line (Gresham/City Center/Hillsboro)
MAX trains operate around every fifteen minutes the majority of the day, every day. Its service is less frequent within the evening, midday, and early morning.
The MAX Orange Line opened on September 12, 2015 and connects downtown Portland to Sellwood, Central Eastside, and Milwaukie, a suburb to the SE. Orange Line utilizes Tilikum Crossing, Portland's newest span since '73 and nation's longest bridge solely dedicated to pedestrians, bicycles, and transit.
Ways to Ride the Max
You need to have a validated bus transfer receipt, ticket, or pass before you board MAX (unless you are utilizing a Hop Fastpass, which may be tapped after you board). Ticket validators and machines are situated at the station. There aren't any fare boxes onboard the light rail. Before you board, purchase your ticket from the ticket machine or using the mobile ticketing application or tap the Hop Fastpass upon a designated card reader — or validate the previously purchased ticket inside the validator situated close to the ticket machine. Validated tickets are your payment proof, good for 2 hours on the light rail, buses and Portland Streetcar. (Full-day tickets are also available.) Keep the ticket until you've completed the trip. The light rail's ticket machines will return change in coins; therefore, small bills are suggested. If you own a bus transfer receipt or TriMet pass, simply board MAX and take a seat. (Check its expiration time at the upper part of the transfer; you might wait to board until that time.) It's also possible to pay with cash or buy adult fares utilizing a mobile phone's wallet functionality.
To pay the fare, it's possible to also utilize Hop Fastpass, the electronic-fare payment system that was launched by TriMet in the year 2017. Hop cards may be purchased for $3 at the ticket office of TriMet and at grocery stores and local retailers and reloaded at local stores or by utilizing the platform's mobile application. To utilize a Hop Fastpass, just tap the card on the designated card reader every time you get onto the light rail, bus, or streetcar. You also can pay with cash or buy adult fares utilizing a mobile phone's wallet function (Samsung Pay, Android Pay, or Apple Pay).
Signage at the station point to where you should wait and when the following train is going to arrive. Signage on the front of every train identifies the line (Yellow, Red, Green, Orange or Blue), as well as destination.
MAX will stop at each station; therefore, you do not have to signal the operator to get off or on. The name of the station is announced before every stop and will appear upon a reader board overhead.
Where Can you Go on the Light Rail?
Besides travelling the Old Town Chinatown district and all of downtown, it's possible to ride the light rail to these attractions:
Washington Park (Hoyt Arboretum, World Forestry Center Discovery Museum, Portland Children's Museum, and Oregon Zoo) – Blue and Red lines
Washington Park: it's one of the best loved, oldest, and most widely utilized Portland parks. It contains over 400 acres of gardens, trees, playgrounds, attractions and fifteen miles of trails. It houses Vietnam Veteran's Memorial, Oregon Zoo, Portland Japanese Garden, International Rose Test Garden, Hoyt Arboretum, World Forestry Center, and Portland Children's Museum.
In 1871, Portland bought the initial 40.78 cougar-inhabited acres for a high price which concerned folks of the town of 8,000 at that time. Within the 1900s, sentiment started changing and "City Park" developed into a collection of walkways, gardens, and zoo, and in the year 1909 it assumed its present name.
Moda Center (Concert venue and NBA arena) – Yellow, Red, Green, and Blue lines
The Moda Center (previously Rose Garden Arena) is a multi-purpose arena within the Rose Quarter that holds a capacity of almost 20,000 which serves as the home of the Portland Trail Blazers and, for a portion of the season, the WHL Winterhawks. The Moda Center, since its opening in 1995, hosted a large variety of additional events, from the Dew Tour to Disney on Ice, and concerts by major name touring artists. Also, the Moda Center has curtains and acoustic cloud which transform it into a more compact theatrical setting for about 4,500 guests.
Amtrak (Union Station) – Yellow and Green lines
Amtrak: it's the nation's passenger rail operator that has 21,000 route miles in forty-six states, DC, as well as 3 Canadian provinces. The city of Portland is connected to 3 Amtrak lines. Amtrak Cascades lines run from Vancouver, B.C., through Portland and Seattle to Eugene, Ore. Coast Starlight lines run from Portland through Seattle to LA. Empire Builder lines run from Seattle/Portland to Chicago.
PDX (Portland International Airport) – Red line
Portland Airport provides direct flights to over 100 cities around the world, as well as outstanding dining and shopping choices and live piano music. Welcoming services for a group may be provided.
OMSI (Oregon Museum of Science and Industry) – Orange line
One of the nation's top science museums, Oregon Museum of Science and Industry is 219,000 sq. ft. of brain-powered fun. About 5 enormous halls will bring science to life with a multitude of interactive displays and exhibits. It's possible to experience an earthquake, be involved in live laboratory demonstrations, check out a film in The Empirical, our four-story massive screen theater, journey the universe in a planetarium and tour an actual submarine. Situated on the E. bank of the Willamette River alongside the breathtaking Eastbank Esplanade.
Other notable places:
Green Line – Clackamas Town Center (the shopping center)
Red, Green, and Blue lines – Lloyd Center (the shopping center)
Yellow and Green lines- PSU (Portland State University)
Yellow Line (Portland Expo Center)
Red, Green, and Blue — Oregon Convention Center
Red and Blue lines — Providence Park (Timbers & Thorns soccer)
Red line – Cascade Station (IKEA, shopping, and hotels)