Let's Start From the Beginning
Though glass manufacturing has a history that goes as far back as 3500BC in Egypt and Eastern Mesopotamia, glass developed for the mass market in the US came much, much later.  Why does this matter when choosing new windows for your home? An appreciation for how far glass technology has come might be the final straw in motivating you to replace your home's rickety old windows!
---
Historically, Windows Have Been Poorly Made
Anyone who has lived in a home or apartment built in the early 1900's is familiar with "wavy glass." That thin window glass that warps the images on the other side when you shift from side to side. It's a charming relic from the bygone days of plentiful home-building resources and limited technological capability. But it's terrible at insulating against noise and temperature and fabulous at creating condensation and mold when it's cold outside.
Summer with old windows is no better. Many of these buildings are outfitted with windows, of course, but no screens. Leaving occupants with the option of jamming a temporary, adjustable wood screen into the bottom portion. All supported by the vain hope that no fingers will be crushed if the process goes horribly wrong.
But even homes built more recently are outfitted with poor quality windows. As consumers, we know that just because the technology exists, it may not be applied to every product in its corresponding industry. Manufacturers cut corners and develop cheap options to get quick sales and count on those products to deteriorate and require replacement in a few short years. This unfortunate habit applies not only to the glass pane but frames and cladding as well.
When it comes to items we buy infrequently, like roofs and windows, finding high-quality products is tough. What does high-quality mean for windows these days? It certainly doesn't mean the same thing it meant in 3500BC, and standards have definitely surpassed what was considered top-of-the-line in the 1940's.
At Dr. Roof. we know windows as well as we know roofs. Here's a guide to help you make a good decision about your new window installation.
---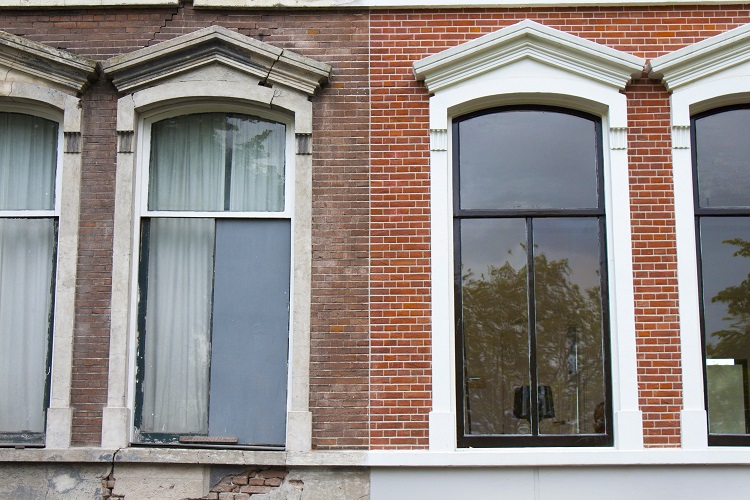 The Other Kind of Window Shopping: Five Tips to Help You Through the Window Replacement Process
So, where to start when shopping for replacement windows?  Let's consider what makes windows good quality, as well as the scope of your project. That way you can more accurately calculate the cost of your window installation before calling a contractor.
---
Energy Efficiency 
Starting as early as 1929, when Sears Roebuck started advertising windows that lowered costs on coal-fueled heating, windows were available with storm sashes. By offering thicker trim and frames, insulation against cold temperatures was increased. At the time, even though the technology existed overseas, the cost was still too high to make it feasible for US households.
Insulated glass didn't emerge onto the mass market until after WWII. However, the glass itself was still very thin in comparison to the options we have today. A homeowner would be crazy not to care about energy efficiency, especially now that efficient windows are easily available and affordable.
Many utility companies also offer rebates for homeowners who replace their old windows with certain, newer models. Energy Star windows usually come with a rating as well as a rebate option from your local utility company. Check their website for details in your area.
Know the numbers associated with window insulation levels as well. Ask your contractor about U-factors, solar heat gain coefficient, and visible transmittance. They'll happily translate the technical jargon for you.
---
Style
Double hung or casement? Which cladding and sash types match the style and period of your home? Ranch, bungalow, modern, or farmhouse? Make sure you don't get distracted by what looks great on your neighbor's house if theirs is a completely different style than yours. Gather some examples or trims, trim color, hardware, and style variations that you like.
Though your window installation contractor will be happy to offer his or her opinion, don't rely on them entirely. Again, think about how your new windows will work aesthetically with the exterior of your home, and go from there.
Be careful about oversights like whether a casement window will open fully when situated underneath eaves or other obstructions. Write down notes and bring them with you during the consultation so you don't lose focus in the moment.
---
Noise Dampening
Soundproof windows are made with airspace between two panels of laminated glass. This optional feature is a huge, and one that some homeowners don't think about until it's too late. Regardless of the R-value of your wall, attic, and subfloor insulation, if your windows have poor noise dampening ability – referred to as its STC Rating, you might want to think about investing in a white noise machine to keep the sounds of the great outdoors where they belong… out!
---
Frame and Cladding Material
The frame provides the structure of a window and is protected by cladding. Wood cladding, though great-looking, are the most expensive. Vinyl is very popular, far less expensive, and still looks fine even on old homes. Aluminum and fiberglass are other common window cladding materials.
---
Pricing
Prices on windows vary from dealer to dealer. Take the time to shop around – look for seasonal specials and compare prices, but don't rule out the long-term value of a higher initial price point. And remember that more expensive doesn't necessarily mean it offers what you need.
---
Ready for Your Window Replacement?
Replacement windows offer countless benefits, and once the process is over, you'll wonder why you waited so long to have them swapped out. Dr. Roof has been replacing windows in homes across the Northern Oregon Coast area for over twenty years. Even in that relatively short time we've seen window technology and consumer tastes change. So, we're glad to offer our expertise when you're ready for the switch.
Ask us about our recommendations for windows in your home. We're happy to speak with you about setting up a time to take measurements and offer price estimates.